January, 2017
This months marks the 17 year anniversary of INOVAS' incorporation. Since then, we have been hard at work designing, creating and supporting a number of projects for the public and private sectors.
November, 2016
INOVAS in its participation and member status within the International Trade Council (ITC) received the following certificate of appreciation for its involvement with the ITC community and training.
November, 2016
INOVAS has established a strategic alliance with ION Informatics.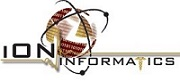 November, 2016
INOVAS is awarded recognition of accreditation as a Qualified Accredited Information Technology Services Provider and is included in the Qualified Manufacturers List (QML) of the International Trade council.